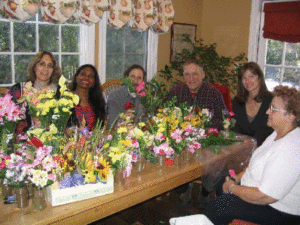 Demarest Garden Club volunteers make mini floral tray favors for the Meals on Wheels drivers to deliver with meals to homebound neighbors.
The small flower arrangements are made of silk for a carefree bouquet, which nicely suits the needs of the elderly recipients. The flowers are a cheery and colorful addition to their meal.
This program offers the gift of garden therapy to both the volunteers who enjoy the camaraderie of making the flower arrangements and the grateful individuals who receive them.
Club volunteers gather for one to two hour sessions to prepare the tray favors. Materials are supplied by the Demarest Garden Club.
For Schedule, See Activities Calendar