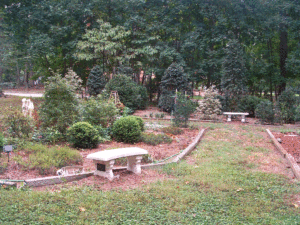 Located on 18 acres of Borough owned land purchased in 1973 with Green Acres funds, the Arboretum and Wildlife Preserve are the crown jewels of preservation of open space in the heart of Demarest. The site once housed the old Van Davies farmhouse and ice house, the latter which in part is still standing. A huge copper beech (ca 1815) still graces the property.
---
DAVIES ARBORETUM
Davies Arboretum was begun in 1977 on the front 7 acres. It showcases the best low-maintenance flowering trees, shrubs, and other plantings hardy in this area (Zone 5). The selection of all plantings and maintenance are overseen by the Club Arboretum Committee which meets there on Monday mornings from March to October. Highlights of the arboretum include:
The Bartke Grove – 1992 collection of Stellar dogwoods, 21 cultivars of hybrid andromeda, and other mid-sized ornamental trees
Hansen Holly Grove – 1999 collection of unusual hardy hollies
Janet Van Gelder Bird Garden – 2002-2006 interactive Bird Identification Center designed around a granite bird bath, bird feeders, and bird friendly plantings
South End Project – 2000-2008 several themed gardens including Four Seasons Gardens, Deer Resistant, Butterfly, Children's and Vertical Garden
Ed's Garden Railroad – 2008 features solar powered tracks for running G-gauge model trains
Propagation Garden – 2010 used to propagate plants for our annual plant sale.
---
DAVIES WILDLIFE PRESERVE
Davies Wildlife Preserve – begun in 1988, this area preserves the back 11 acres in its undeveloped state.  A system of trails winds through the wooded site making it an excellent area for nature walks and wildlife sightings.